Dynamic Vapor Sorption
Invented in 1991 by Prof. Daryl Williams, Founder, and MD of Surface Measurement Systems, Dynamic Vapor Sorption is a groundbreaking technique for the physico-chemical characterization of solid materials. When compared with standard methods at the time, DVS characterized solid-state materials 20 times faster, with 20 times less sample, and 20 times more accurately. But how does DVS accomplish this?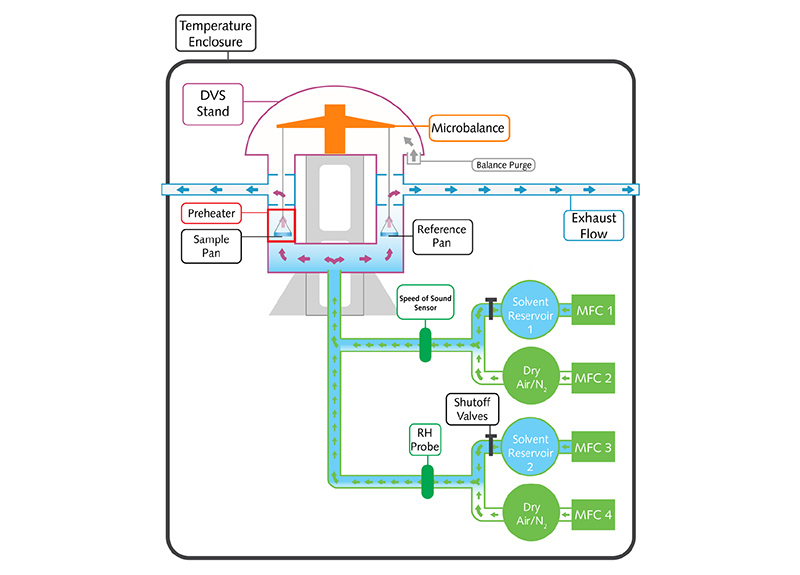 What is DVS?
Dynamic Vapor Sorption (DVS) is a gravimetric sorption technique that measures how quickly and how much of a solvent is absorbed by a sample: such as a dry powder absorbing water. It does this by varying the vapor concentration surrounding the sample in a controlled environment and measuring the change in mass that this produces. While water vapor is most commonly used, the technique can also be employed with a wide range of organic solvents. 
A valued tool in laboratories all over the world, DVS is employed across a range of sectors and applications within R&D, from polymorphism and compound stability studies to bulk and surface sorption effects of water and organic vapors. It is a vital part of quality control analysis techniques for formulation, scale-up, production, packaging, and beyond.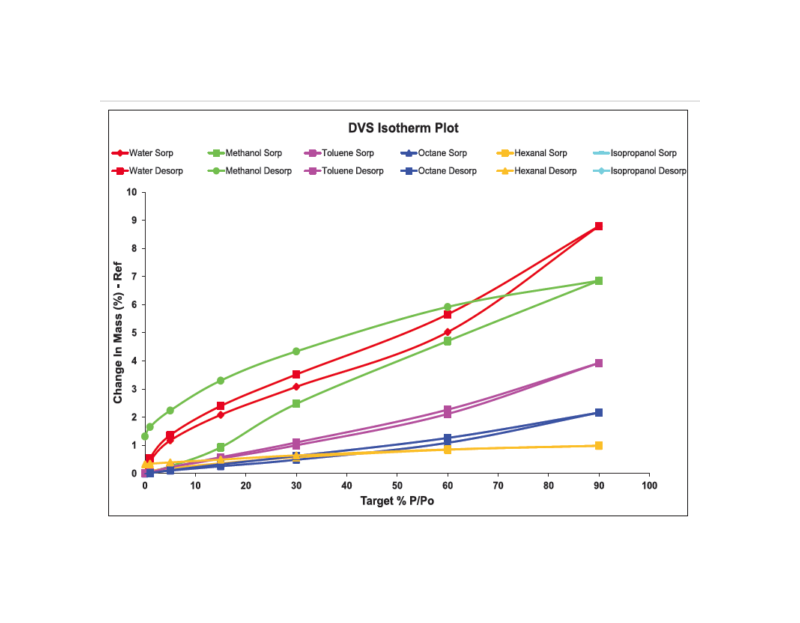 How does DVS work?
Dynamic Vapor Sorption rapidly measures uptake and loss of moisture or organic vapors by flowing a carrier gas at a specified relative humidity (or partial pressure) over a sample (which can weigh between 1 mg and 4 g) suspended from the weighing mechanism of an ultra-sensitive recording microbalance, the patented Surface Measurement Systems Ultrabalance. It is capable of measuring changes in sample mass lower than 1 part in 10 million, providing unrivaled long-term stability required for accurate measurements of vapor sorption phenomena, which may take from minutes to days to complete depending upon the sample size and material. Indeed, a major factor in determining the sorption behavior of materials is the need to establish rapid sorption equilibrium; therefore the DVS instrument allows sorption behavior to be accurately determined on very small sample sizes (typically 10 mg), thus minimizing the equilibration time required. 
The DVS instrument is fully automated through purpose-built DVS control software package, providing a flexible and easy-to-use interface for setting up and running sorption/desorption experiments. In addition, the DVS Data Analysis Suite provides a powerful environment for rapid plotting and quantitative analysis of data. 
The benefits of Dynamic Vapor Sorption?
Fast, efficient experiments
With our automated DVS Control & Analysis software, you can rapidly measure uptake and loss of moisture or organic vapors in your chosen material sample.

20x improvement on other methods
The Dynamic Vapor Sorption was debuted by Prof. Daryl Williams, it improved upon the accuracy, detail, and precision of measurements by 20x when compared to alternative techniques.
Patented SMS Ultrabalance
The patented SMS Ultrabalance sets the standard in baseline stability and accuracy, enabling unrivalled precision and accuracy of the DVS method.
Automated Experiments & Analysis
Our purpose-built DVS Control & Analysis Software enables you to control effect facet of your experimental set up, as well as being capable of analyzing your results with one-click!
Modular accessories
The large range of modular accessories for the DVS series, from sample preheaters to heated water reservoirs, greatly expand the capabilities of the instrument, and the horizons of your research.
Water or organic vapor
As well as conducting water sorption experiments, the patented SMS Speed of Sound Sensor ensures you can test your sample against a range of organic solvents, with no sacrifice to accuracy and detail in your results.
Dynamic Vapor Sorption in action
Surface Measurement Systems have developed and engineered a range of innovative DVS instruments. With a variety of capabilities, we can offer solutions that can serve in any sorption experiment, and meet the logistical needs of any laboratory. Find out more about our DVS range to see why we're the first choice in sorption in laboratories around the world.