DVS Intrinsic PLUS
Compact DVS instrument for complex water sorption challenges
Small to mid-sized laboratories and plants often meet with the same challenge: how to manage smaller budgets and manpower resources without sacrificing their ability to carry out meaningful and complex research studies. This is where the DVS Intrinsic PLUS comes in!
The world's smallest automated Dynamic Vapor Sorption instrument, the DVS Intrinsic PLUS enables smaller research groups to perform complex and detailed sorption studies on a large variety of samples by combining the high level of performance expected of our instruments with ease of use, low capital investment, and a small maintenance burden.
By combining all the features that make our DVS range the first choice in sorption across the world in a compact unit, the DVS Intrinsic PLUS will greatly expand the sorption research capabilities of your laboratory. The system incorporates the SMS Ultrabalance with industry-leading electronics to offer the same level of detail, precision, and accuracy that is the hallmark of our DVS instrument range.
The user interface, when combined with the step-by-step software wizards, yields high performance with minimal operator training. With the ability to fully automate experiments using a wide variety of samples, the unit offers huge returns with little cost in operator time or bench space. That's why it's the industry standard for small to mid-size laboratories across the world.
The world's most compact automated DVS instrument
See the DVS Intrinsic PLUS in action, and discover what makes this one of our most popular instruments.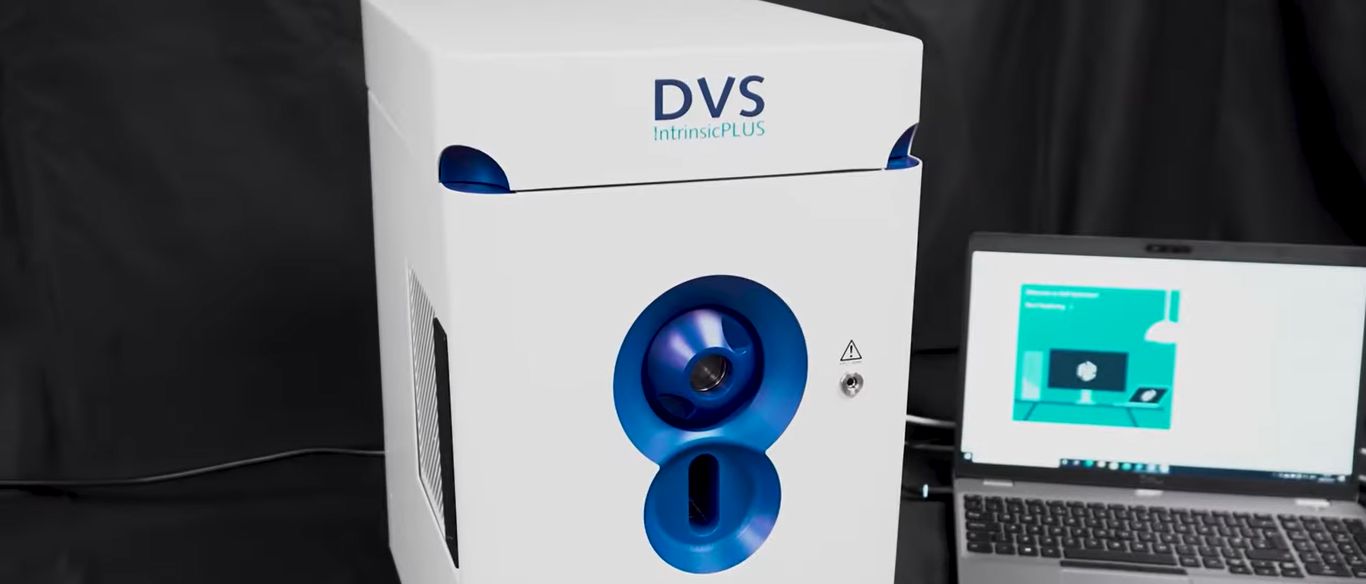 The world's smallest DVS instrument
With a footprint of just 26cmW x 39cmD, the DVS Intrinsic PLUS is a compact, convenient instrument that brings all the benefits of DVS characterization to your lab with little impact on your bench.
Simple setup & maintenance
With a simplified user interface, step-by-step software wizards, and little maintenance required, the DVS Intrinsic PLUS helps minimize operator time and upkeep costs.
Fully Automated DVS
When resources are limited, maximizing results is crucial. With a fully automated system and tailor-built DVS control and analysis suites, the DVS Intrinsic PLUS gives you a huge return on investment of both time, effort, and cost.
The SMS Ultrabalance
By incorporating the Surface Measurement Systems Ultrabalance for unrivaled precision and baseline stability, the DVS Intrinsic PLUS gives high-quality water isotherms and efficient water activity measurements in a compact package.
The DVS Intrinsic PLUS in action
See the world's most compact automated DVS instrument in action.
This gives a brief overview of how the instrument is used, how samples are loaded, and what benefits it brings to your lab.
Optional Color Video Microscopy
Bring visual details to your reports, along with a bit of flare, by attaching the Color Video Microscopy camera, enabling high-resolution imagery to show the changes to your sample.
Features
Schematics
Applications
Specifications
Features
High-quality water isotherms and efficient water activity measurements
Step-by-step software wizards guide users through routine procedures
Smallest, compact design that makes optimal use of limited bench space – only 26cm wide
Advanced electronics and simplified user interface
Accommodates a wide variety of sample geometries and up to 5 gram capacity
SMS UltraBalance provides unrivaled sensitivity and baseline stability
Built-in Network Connectivity for easy data sharing and remote analysis
Supports 21 CFR part 11
Schematics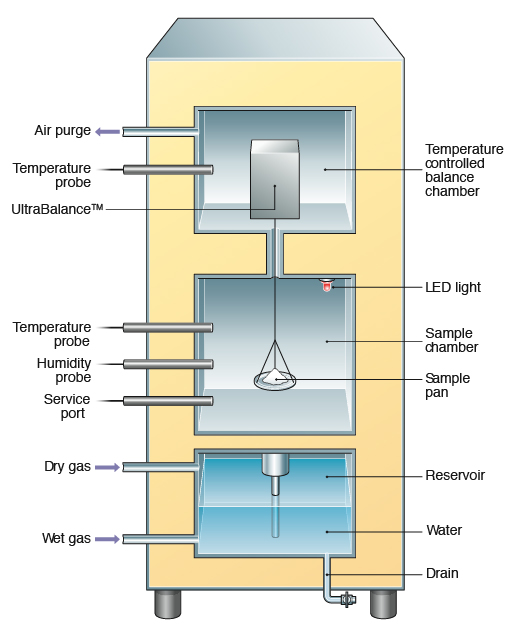 Applications
Studying hygroscopicity of powders, fibers, and solids
Kinetics of water sorption and desorption
Water-induced morphology changes
Food shelf-life prediction studies
TEWL/Transepidermal Water Loss
MVTR/ Moisture Vapor Transmission Rate determination
Calculation of Diffusion Coefficients
Sorption Modeling
Moisture Compatibility
Water Activity Measurements
Specifications
Temperature range 20–40 °C (standard)
Mass change: (low/high mass instrument) +/- 150 mg/1.0 g
Mass resolution : (low/high mass instrument) +/- 0.1μg/1.0μg
Temperature stability +/- 0.2 ºC
Sample chamber 40mm W x 50mm D x 50mm H
Heating system Peltier + Cartridges
Size approximately 26cm W x 39cm D x 47cm H
Carrier gas: Air or N2
Maximum sample mass: (low/high mass instrument) 1g/5 g
Stability (24 hours @ 25 ºC and 0% RH): (low/high mass instrument) <5 μg/<50 μg
Humidity Range 0–98%RH
Gas flow rate 200 sccm
Reservoir volume 100 ml reservoir capacity
Weight: 22 kg
Inlet pressure: 2 to 4 Bar
Computer interface TCP/IP and USB/RS232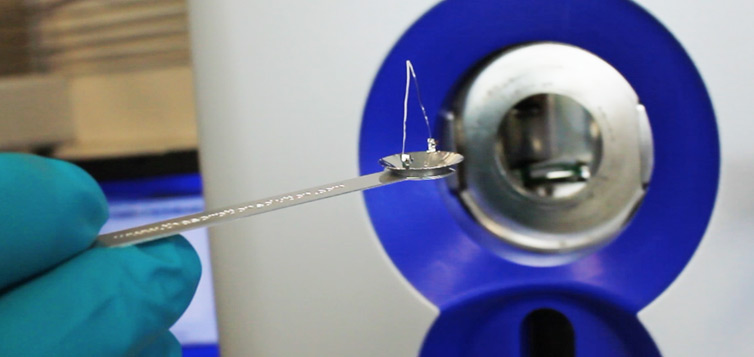 Find out more about the DVS Intrinsic PLUS
Does this sound like an instrument you need in your lab? You can download the brochure below for more information, or place a request for a quote to speak with a member of our team and receive a tailored offer on a DVS Intrinsic PLUS.