DVS Vacuum
Gravimetric Gas/Vapor Sorption Vacuum Analyzer
For the measurement of kinetics and physiosorption isotherms of Zeolites, MOFs, COFs, Carbons, and composite materials, there is no better instrument available than the DVS Vacuum.
Designed for single and multicomponent vapor/gas sorption analysis, the system offers precise control, accuracy, and measure of temperature and pressure while recording the changes in sample mass.
The DVS Vacuum produces its vacuum with a combination of roughing and turbomolecular pumps for its operation. Maintaining thermal equilibrium throughout the vacuum chamber, including the sample, pressure transducers, vapor/gas delivery systems, and solvent flasks, the system enables smooth operation over the entire temperature range (20-70 °C) without risk of condensation.
The system introduces partial pressures of water or organic solvent under a vacuum to minimize their impact on the structure of a material. The analyzer then measures true water or organic vapor sorption isotherms without unnecessary interference from a carrier gas. In addition, it allows us to study the drying kinetics of pharmaceutical powders, greatly expanding the applications of the instrument.
Gravimetric Gas/Vapor Sorption Vacuum Analyzer
Discover what makes the DVS Vacuum one of the most unique sorption measurement instruments in the world.
Long-Term Temperature Stability
Maintaining vapor generation and delivery manifold at the sample temperature, the DVS Vacuum's innovative design prevents condensation issues common to other instruments on the market, and ensures long-term temperature stability.
Pressure measurements
The DVS Vacuums is the world's most advanced vacuum DVS device, enabling direct, gas-independent, high-accuracy pressure measurement.
Reliable Precision Mass Measurements
With the unrivaled precision of the Surface Measurement Systems Ultrabalance at its core, the DVS Vacuum has unmatched balance baseline stability over 24 hours, capable of measuring mass changes at a resolution of 0.1ug with peak-to-peak noise of less than or equal to 0.3 ug.
Measurement Capabilities
Specifications
Schematics
Measurement Capabilities
In-situ sample outgassing at temperatures of up to 400 °C and high vacuum (≤10-6 Torr)
In-situ drying curves of pharmaceutical materials at various pressures and temperatures
Real-time adsorption/desorption kinetics
Adsorption/desorption IsoTherms (T constant, P variable)
Adsorption/desorption IsoBars (T variable, P constant)
'apparent' BET (Brunauer, Emmett, and Teller) Surface Area
Diffusion coefficients
Heat of Adsorption
Dynamic Competitive Adsorption of two probe molecules (e.g. CO2 – H2O, Toluene – H2O, MeOH – H2O)
Binary competitive adsorption of one probe molecule at constant loading of another probe molecule
Multiple adsorption/desorption and sample regeneration cycles
Specifications
Temperature
Temperature controlled enclosure
Control range: 20°C to 70°C
Control precision: ±0.1°C
The enclosure also provides anti-condensation protection
Weight measurement            
High-Resolution microbalance
Sample mass: between 1 and 1000mg
Mass change: ±150mg
Resolution (precision): 0.1 μg
Peak to peak noise: ≤ 0.3 μg
Pressure measurement
1000 Torr Baratron full scale from 0.01 up to 1000 Torr (standard)
10 Torr Baratron: full scale from 0.005 up to 10 Torr (standard)
Other ranges available upon request (100 and 500 Torr)
Accuracy: ±0.5 of Reading
Resolution: 0.01% of full scale
Vacuum pressure measurement
Vacuum pressure transducer: full scale from 1×10-8 Torr up to 760 Torr
Computer hardware and software
The system is fully automated and controlled by purpose-built software. Data can be analyzed in real-time using analysis software.
Schematics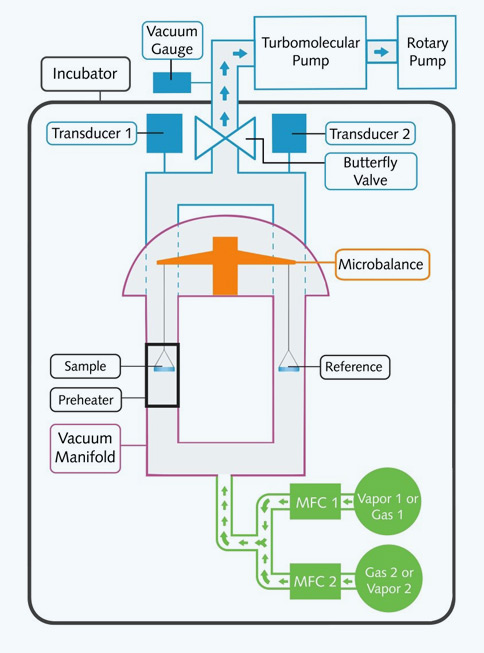 Find out more about the DVS Vacuum
To find out more details about the world's most advanced vacuum DVS instrument, or enquire how you can bring its incredible capabilities to your lab, simply fill in your details below.