DVS Resolution
Dual Vapor Gravimetric Sorption Analyzer
The world's most advanced DVS Instrument, the DVS Resolution is a dual vapor gravimetric sorption analyzer that brings unparalleled capabilities and precisions to the study of complex sorption behaviors.
The instrument has the combined ability to precisely control and measure temperature and relative humidity while recording the highest resolution changes in mass.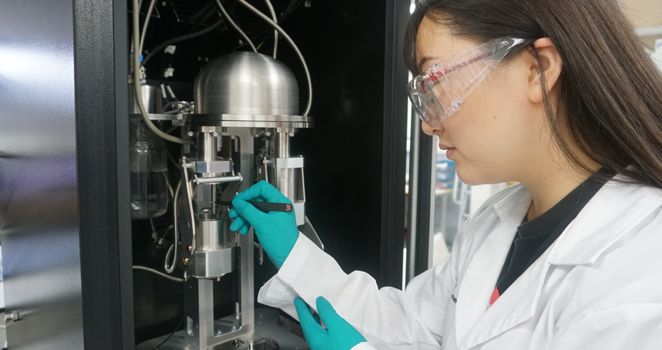 Incorporating an innovative dual balance design, the DVS Resolution provides accurate precision sorption measurements on a huge range of materials. Employing a dry carrier gas, typically Nitrogen or compressed air, the instrument uses digital mass flow controllers to regulate flows of dry and saturated gases. By precisely mixing dry and saturated gas flows in desired flow ratios, precision levels of relative humidity are generated.
With the Surface Measurement Systems Ultrabalance™ measuring minute real-time mass changes caused by sorption and desorption in the sample, valuable sorption behaviors can be observed in a range of materials. The DVS Resolution can function with a range of modular accessories (I.e. in-situ pre-heater), greatly expanding its experimental capabilities. As the most advanced and versatile DVS instrument on the market, the DVS Resolution is the leading sorption analyzer in the world.
Dual Vapor Gravimetric Sorption Analyzer
Discover what makes the DVS Resolution the world's best-selling sorption analyzer.
Long-Term Temperature Stability
With multiple temperature zones to prevent condensation issues, and vapor generation matching delivery temperature, the DVS Resolution offers incredibly long-term stability in both temperature and humidity delivery, with typical stability at 25 °C being ±0.2 °C.
Humidity Performance
The DVS Resolution offers the highest level of humidity precision in any instrument we've ever produced.
Balance Baseline Stability over 24 hours
With the unrivaled precision of the Surface Measurement Systems Ultrabalance at its core, the DVS Resolution is capable of measuring mass changes at a resolution of 0.1ug with peak-to-peak noise of less than or equal to 0.3 ug.
True0 RH
Surface Measurement Systems engineer the only DVS instruments to offer True0 RH, achieving partial pressures of water as low as 0.0% RH, and enabling the study of hydrates and other compounds only completely dry below 1% RH.
Benefits
Capabilities
Applications
Specifications
Schematics
Benefits
The only system to measure organic vapor partial pressure directly using Ultrasonic Sensor (patent pending)
Open stainless steel stand design enabling easy access to sample pan while minimizing static electric charging
Broad range (5-85 °C) and single uniform and accurate temperature enclosure
Next-generation control and evaluation software for the most advanced experimental design and data analysis
Capable of upgrading to 5 balances
Optional IR, Raman, and Video imaging with integrated control software
Capabilities
Water, organic solvent, and gas sorption and desorption isotherms
Co-adsorption isotherms using two vapors
Optional in-situ sample preheating/drying to 200 °C
Multiple sorption/desorption and sample drying or activation cycles
Sample masses from 1 mg to 5000 mg
Surface and bulk measurement capabilities and analyses
Applications
Hygroscopicity of pharmaceutical solids
Tg and RH phase transitions in polymers
Amorphous content determination of solids
Diffusion and permeation in polymers
Food, flavors, and fragrances
Sorbents
Wood and cellulosic materials
Composites
Hydrophilic and hydrophobic materials
Specifications
Temperature
Temperature controlled enclosure
Control range: 5 °C to 85 °C
Control precision: ±0.1°C
Enclosure also provides anti-condensation protection
High-temperature pre-heater for sample drying/activation
Delivers local sample temperatures of up to 200 °C
Heating ramp rates: up to 5 °C / min
Sensor: Pt-100 thermocouple
Resolution Stand
Manifold: 316 stainless steel
Seals: Viton
Tubing: 1/4 inch stainless steel
Solvent Reservoirs
Material: Pyrex glass
25 and 0.5L as standard
2 Reservoirs included
Relative humidity generation, measurement, & sensor
High-accuracy digital mass flow controllers and capacitance probe
Carrier Gas – Dry air or Nitrogen
Relative humidity range from 0 to 98%
RH range accuracy from 5 – 60 °C ±1%
RH range accuracy from 60 – 85 °C ±2%
Organic vapor measurement with Speed of Sound Sensor
High-accuracy digital mass flow controllers for vapor and gas delivery
Speed of Sound Sensor for organic vapors
Carrier Gas – Dry air or Nitrogen
Partial Pressure range from 0 to 90%
Partial Pressure accuracy from 10 – 70 °C ±1%
In-line real-time Speed-of-Sound Sensor for organic vapor Partial Pressure (P/Po) measurements and control with a typical resolution of ±0.1% P/Po
Automated zeroing of Speed of Sound sensor prior to each experiment
Note: SMS limits the use of organic solvents to 20°C below their boiling points.
Solvents available:
Acetone
Chloroform
Cyclohexane
Decane
Dichloromethane
Ethanol
Ethyl acetate
Ethyl benzene
Heptane
Hexane
Isopropanol
Methanol
Nonane
Octane
Toluene
Water
M-Xylene
p-Xylene
System Software
Next-generation purpose-built control and evaluation software for the most advanced experimental design and data analysis.
DVS Control
Complex protocols for multiple experimental sequences using sample pre-heating and conditioning; isotherm, isobar, and ramped humidity and organic vapor methods; single or dual vapor delivery and control; a fixed time or mass derivative steps.
Multiple-method protocols incorporating:
Sample pre-heating
Vapor sorption
Vapor exchange
Dual vapor co-adsorption
Temperature changes in a single experiment, including
Ramp or step changes in relative humidity
Automated video image acquisition
Organic vapor sorption partial pressure
Temperature stages may be based on fixed-time or user-defined dm/dt criteria
Complex isotherm experiments
Experiments may include half, full, or multiple partial pressure or temperature cycles
Analysis
Isotherms
Permeability and diffusion
Kinetics information
Heat of sorption
Tg determinations
Amorphous content
BET
21CFR Part 11 software solution is available for all DVS software upon request.
Mass measurement
UltraBalance™ low mass
Sample mass: between 1 and 1000mg
Mass change: ±150mg
Resolution (precision): 0.1 μg
Root mean square
balance noise: ≤ 0.3 μg
UltraBalance™ high mass
Sample mass: between 10 and 5000mg
Mass change: ±1000mg
Resolution (precision): 1 μg
Root mean square
balance noise: ≤ 3 μg
Schematics
Find out more about the DVS Resolution
The DVS Resolution is the world's most advanced DVS instrument. To find out more details about its capabilities, or enquire how you can bring its incredible capabilities to your lab, simply fill in your details below.